Office Partitions are essential for creating privacy in open workspaces. Whether it is an office, classroom or reception area, open environments commonly have issues with distractions which interrupt the concentration levels of employees and trainees. The solution is to introduce office partitions which can tackle the issue of both audible and visual disruptions. There are a variety of ranges available and each is suited to tackling a number of different issues in open environments.
From the basic Budget screens which are perfect for preventing visual distractions to the deluxe Delta acoustic screens which are designed to control ambient noise levels, there are a number of ways to modernise the space. As manufacturers of the office screens, we are able to tailor the design to fit the area and ensure it is optimised for the issues it is experiencing.
An additional benefit to this is that we can provide a selection of personalisation options which can help to make the space more vibrant as well as help to spread your branding. Office partitions come in the form of screens, desk dividers and even portable room dividers, so we have a number of solutions to help to enhance your office space. As standard with all of the office screens that we produce, there is a manufacturer's guarantee included.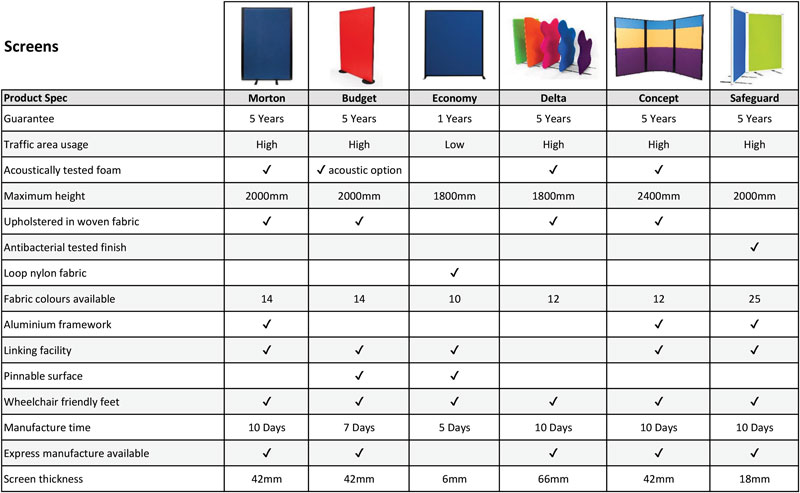 Office Partitions from Rap Industries
Here at Rap Industries, we have specialised in manufacturing office partitions for over 40 years and during that time we have refined and improved the design of each screen to ensure they are as effective as possible for our clients. As such, we manufacture each partition to be sturdy and resolute in order to create a design which will last for years to come. Each office screen is manufactured using high quality materials to create a fantastic finish which is also highly effective in open office environments.
These office partitions are designed and then produced at our site in Peterborough, Cambridgeshire by our experienced and dedicated team. Throughout the manufacturing process, each piece is thoroughly checked to ensure they meet the standards we expect and to guarantee they are safe and secure as soon as they are installed.
From order to delivery, each stage of the order process is streamlined to ensure it is as easy as possible for the client. You can order online or if you would prefer, you can call our team of expert advisors who can take you through the options in more detail and tailor your order to suit your needs. To speak with them, please call 01733 394941 or send an e-mail to [email protected].