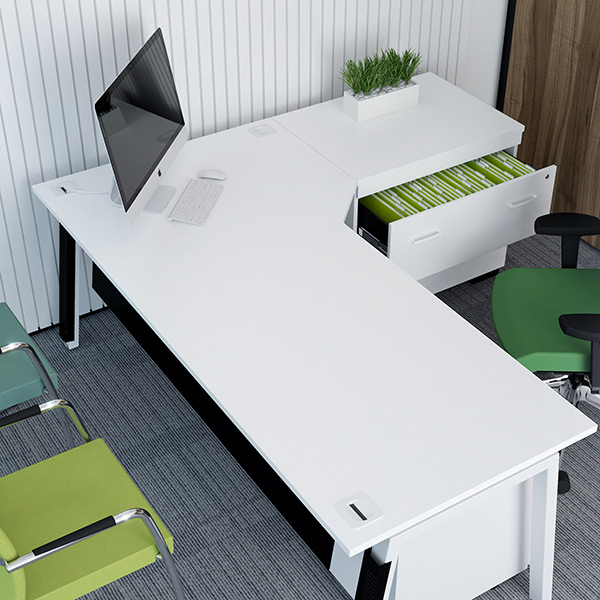 Corner Desks
A Corner or Angular Desk is the perfect desk solution for anyone requiring that bit of extra workspace. This style of desk is perfect for managers, directors or executives for meeting with important clients due to their stylish look, as well as providing adequate desktop space for computer, phone, printers and files.
Available with either a curved or straight seating position, the selection of corner desks offers both with contemporary design. Our corner desks can be used singularly or in a cluster, creating a group of desks ideal for any department, big or small.
Within the Corner Desk range we offer both height adjustable and fixed height options, all manufactured and finish to your specifications, so you can pick the colour, size and finish that fits with your office look and aesthetic.
Looking for a bespoke desking solution? Contact us on 01733 394941 or email [email protected]. As a manufacturer we're able to offer bespoke solutions for our customers that are tailored to their specific needs.
Why Choose Corner Desks?
The Corner or Angular Desks are ideal for anybody requiring that additional space on the desktop for their everyday work life. Corner Desks are perfect for use as both a single desk and cluster desking:


Provides both individual and group desks

Maximum desktop space for those who need it

Can be linked together to create cluster desks

Great for keeping department working together

Both height adjustable and fixed height solutions available

Modern and contemporary look - fits with your aesthetic

Perfect for growing businesses

Create flexible working stations