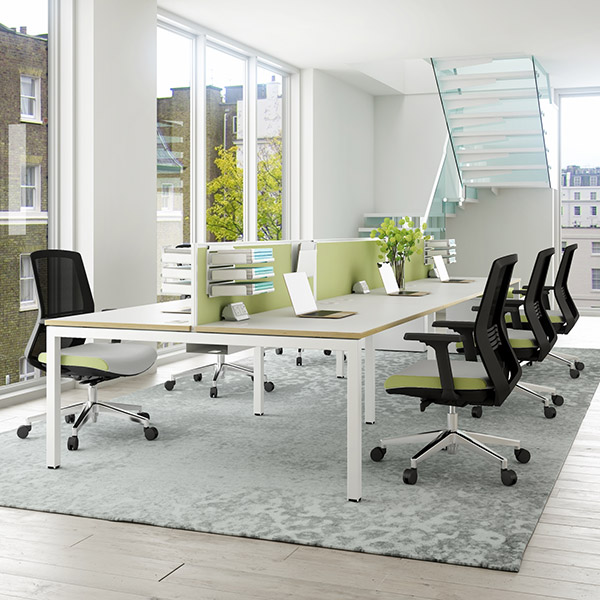 Bench Desking
Bench desking is becoming more and more popular as a way of providing multiple workstations with minimal desking. Not only is it a more affordable way of offering desks to your employees but also gives flexibility, being able to change with your business needs. If you need to increase or decrease the individual desk sizes you can, meaning there's less space for all that unnecessary clutter. What's more, bench desks can be expanded if needed, you can simply add another section onto the desk (often without the need for many more legs!)
Collaborative working is another great reason to install bench desking in your office. They encourage people to work together, and make it easy to set up departments, keeping all the individuals who need to work together in teams. This in turn makes them more efficient, making the business more productive.
The modern, sleek look of bench desks also means they take up less room than the traditional single rectangular workstations, so if space is limited bench desks could be the solution.
Why Choose Bench Desks?
There's a reason that Bench Desking has become the popular choice for workstations across the world, and below is just a few of these:
Encourages employees to work collaboratively

Reduces the desk size - less space for mess

Keeps departments working together

Takes up less space than individual desks - great for smaller offices

Affordable way to create multiple workstations

Modern and contemporary look - fits with your aesthetic

Flexible - easy to change with your business needs

Expandable - increase as your business grows

Ideal for desk shares or hot desking