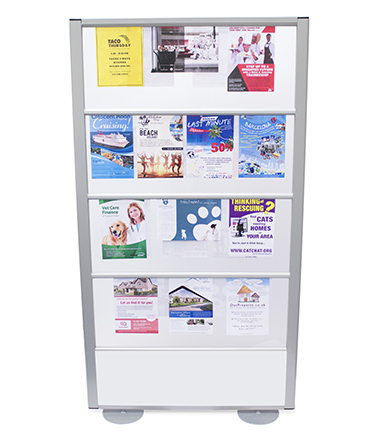 We design and manufacture a variety of notice boards and information stands which are tailored to provide a stable and attractive backdrop for your leaflets and announcements. These are all tried and to tested to guarantee they excel in a variety of indoor environments. From the humble Clippy notice board to larger solutions such as the PanelFix display boards, we have a number of options available which can adapt to your environment.
We manufacture our notice boards and information stands using high-quality materials which guarantee that they are strong and reliable even when used in indoor environments with a high amount of footfall. For example, we manufacture each with an aluminium frame, which ensures the stand is strong, but also extremely lightweight if you ever need to move them to different locations.
All the notice boards and information stands are made bespoke and are tailored to suit your surroundings and to provide the perfect platform for your notices. From the height and size of the panels to the colour of the stand, we provide several ways in which to customise the notice board. If you have a unique idea in mind or are looking for further details on our notice boards, then please get in touch by calling 01733 394941 or send an e-mail to [email protected]

Why Buy Notice Boards at Rap Industries?
The notice boards that we produce at Rap Industries are designed to be a permanent solution for displaying posters and leaflets. We manufacture each using a solid internal core which is resistant to bumps and knocks. As well as this, many of the systems are equipped with stabilising feet which help to provide additional strength and reliability when the display stand is in use in busy indoor environments.
In terms of the finish, we have a variety of options available to suit the content you are exhibiting. For example, the Clippy notice board is tailored specifically for exhibiting information. With a laminate backdrop, this integrates simple locking clips throughout the panel which enables you to quickly and securely apply lightweight posters. You can even modify the number of clippy rails included so that larger content can be added.
Alternatively, the PanelFix and Event display boards provide a much larger solution which is equally simple to use. These are upholstered with loop nylon fabric, which allows content to be added simply using hook & loop tape or dots. This prevents damage to your content and ensures the integrity of the notice boards lasts for many years to come.