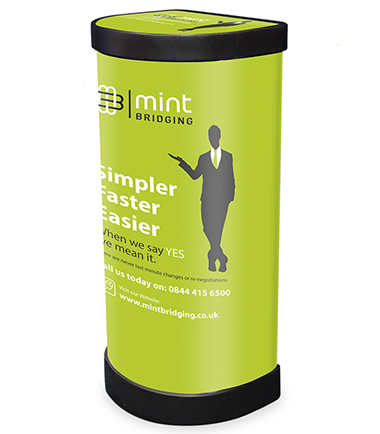 Exhibitions and events almost always require some form of travel in order to get there. Unless you have a dedicated team which is going to transport it there and set it up for you, then it is important to equip yourself with the tools necessary to get the exhibition equipment there yourself. All of the display tools manufactured by Rap Industries are created using lightweight materials specifically for this purpose.
Below you can find a range of bags and cases which are designed for use with many of the products included in our exhibition stand range. The carry bags are created using a hard-wearing canvas which helps to protect your display boards from any nicks and scratches while it is in transit. The bags also have a carry strap attached that eases any strain when transporting the display tools to and from events.
Meanwhile, the cases for the pop up stand and the Streamline exhibition stand are produced using a sturdy polypropylene. We ensure this material is strong so that it protects your exhibition stand when in transit. These cases are also equipped with wheels at the bottom which makes the whole process of transporting them significantly easier. There is even the option to further customise the cases by introducing graphics wraps which allows them to be transformed into promotional counters when in use.

Medical Screens from Rap Industries
The bags and cases here at Rap Industries are tailored for use with our products. By opting for these, we can guarantee that the product fits neatly inside, which has the added benefit of preventing any bumps to the stand when you are on the move. Even when not in use, the bags and cases help to prevent damage and keep the stand in pristine condition for the next time it is required.
All the bags and cases are designed so that they are easy to use, which helps to ensure that the process of transporting your exhibition stand is as straightforward as possible. This is achieved by introducing easy access openings and simple locking tools. These are easy to use which contributes to making the whole process easier, allowing you to focus on the display and event itself.
To ensure you are fully equipped for the event, we have a quick turnaround on all the bags and cases. All the products you will find below are dispatched within 48 hours or they can be included with the exhibition stand itself. If you need one in a hurry, or to further discuss your exhibiting needs, then please get in touch by calling 01733 394941 or send an e-mail to [email protected]