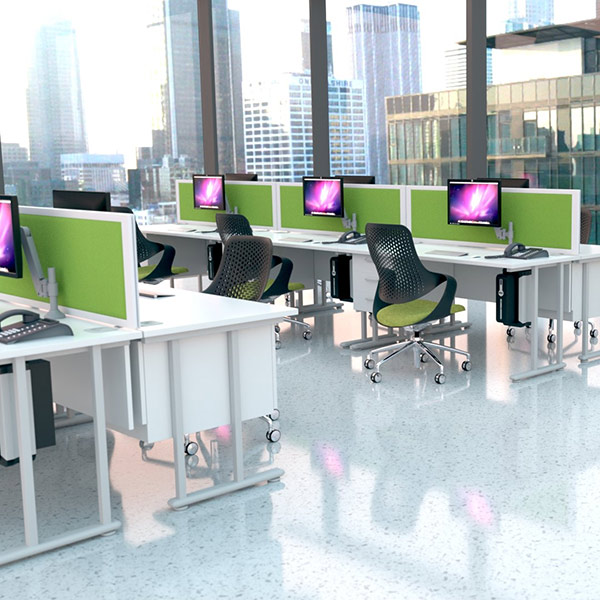 Acoustic Desktop Dividers
Acoustic Desktop Dividers are designed to help soak up ambient background noise in offices, classrooms and many other indoor environments. When open plan spaces become particularly crowded, noise levels often rise and this can cause issues with volume levels, which can lead to loss of concentration and various other complications. The Acoustic Desktop Dividers are designed to help resolve this by introducing soft surfaces equipped with acoustic foam which are designed to soak up sound waves.
We manufacture our Desktop Dividers in a range of different designs and each is tailored to enhance the aesthetic of the space, as well as making it more practical. The Acoustic Desktop Dividers can be produced in a variety of different shapes and sizes which means they are able to adapt to the available design and layout. Each Desktop Divider can be customised with a range of fabric colours to help make the space more vibrant and inviting.
Fixing the Desktop Dividers to your desktop is quick and easy with the easy fix desktop clamps. No tools are required and can effectively be secured into place within minutes. One of the main benefits of the Acoustic Desktop Divider is how minimal space is required. No floor space is used and the acoustic support will be focused on individual work spaces.
The Acoustic Desktop Dividers are made to order, which means they are created unique to your environment and situation. You'll find a wide selection of sizes, styles and fabric colours allowing you to tailor the Desktop Dividers to your surroundings.



Acoustic Desk Dividers from Rap Industries
Our Acoustic Desktop Dividers are composed of a similar design but offer variables to make them suitable for different spaces. Each Desktop Divider is strong and sturdy and once it's applied to the desk, will offer a high effective divide between desktops. The Acoustic Desktop Dividers use acoustic foam on both sides of the partition, the foam absorbs unwanted sound and helps reduce audible distractions.
Attaching the Acoustic Desktop Dividers is quick and simple. Opting for the easy fix clamps will ensure the desktop dividers are fitted and ready for use within minutes. Make sure the desk thickness has been measured for the correct clamp size and all you'll need to do is tighten the clamp to the desk for a secure fit.
Acoustic Desktop Dividers offer a focused acoustic solution, the acoustic foam will be most effective when positioned at head height and inline of voice projection. Speaking into and toward the desktop divider will so maximum results and take a loud distracting office to a quieter, more comfortable workspace.
Omega Desktop Dividers
The Omega Desktop Divider offers a 42mm thickness and a single layer of acoustic foam. Available as an Omega and Omega+ which allows us to offer a wider range of fabric colours for our most cost-effective Acoustic Desktop Divider.
Nova Desktop Dividers
The Nova and Nova Deluxe Acoustic Desktop Dividers are 66mm thick which includes the solid core, 2 layers of acoustic foam a choice of fabric. The additional layer of acoustic foam offers even more acoustic support and is suitable for high and low volume areas.
Delta Desktop Dividers
Similar to the Nova, the Delta Desktop Dividers uses a double layer of the 12mm foam, covering both sides and resulting in a highly effective acoustic solution. The edging is fun and bold and shows a flash of blue around the outer edge of the entire desktop divider.
Morton Desktop Dividers
The Morton Office Screens offer a wider selection of desktop dividers, for both visual and usability differences. The Morton Desktop Dividers have a linking facility located on the side of the screen which fit together with the supplied, flexible linking strip.
Full acoustic and vision desktop dividers are available. Whether you're looking for a full acoustic divider or a split screen which also allows visibility, the Morton Desktop Divider range has the right solution.